Saturday, June 10, 2017, Lethbridge, Alberta
Many workshops and trainings are boring, uninspiring and ineffective.  They often leave participants with little know-how or changed attitude, thinking, or behavior.
Discover how to build a dynamic workshop or training. Expand on your subject expertise in a way that will truly benefit your participants' personal or professional development. Wow them with fun and impactful processes that will help your content stick.
Join us and walk away with:
Knowing basic adult learning principles.
Clearly stated learning goals for your next workshop or training.
Ways to turn a book, article or presentation into a workshop or training.
How to create an effective learning guide (handout).
Understanding the supportive role of slides (PowerPoint/Keynote).
Ways to keep participants alert, actively engaged and having fun.
Knowing how to integrate your well-thought out content into an effective structure.
Understanding the ARCS Model.
Techniques for facilitating group dynamics, including questions and disturbances.
Having experiential openers, closers, energizers, and exercises; and how to make your own.
Tools for changing the pace of the session.
Ideas for props, slides (PowerPoint) and flipcharts.
A reviewed, edited, and dynamic Learning Guide (Handout).
. . . and more.
You will benefit from this
workshop on workshops
if you are: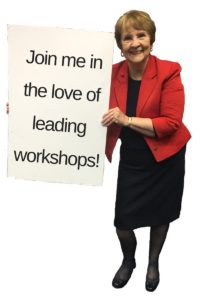 An in-house trainer
A manager or team leader who trains
A college or university instructor
An adult education instructor
A teacher
A health educator
A coach or consultant who offers workshops
A manager or team who trains
Offering personal or professional development session
Leading or wanting to lead a workshop
EVENT DETAILS
Saturday, June 10, 2017
Doors Open: 9:15 am  Program: 9:30 am to 3:30 pm, Saturday
Lunch: Bring Your Own
Where: RE/MAX REAL ESTATE, #110, 376 1st Avenue South, Lethbridge
FEE: 
EARLY BIRD: $59 (Before June 7)  REGULAR: $75 (after June 7)
Limited seats so secure yours now!
E-transfer payment with subject line, "Be an aha! Master'. Click Here  Then email me a 2nd time to ensure I have your full name and phone number.
OR  call me at 1- 403-242-7796 to say "Hold a seat for me!"
Concerns or questions? Call me!
I look forward to welcoming you.
Why Patricia Morgan on this topic?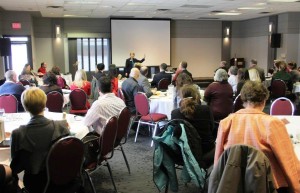 Patricia is the Past President of the Canadian Association of Professional Speakers (CAPS) Calgary.  She is the creator and mentor of the Fast Track program for emerging professional speakers which is used across Canada. Due to that program, she has mentored dozens of emerging professional speakers.
For more than 25 years Patricia has developed and delivered keynote presentations and workshops focused on building personal resilience at work and home.  For 15 years Patricia was a Toastmaster and for five years was an Impact Speaker and Speaker Trainer for United Way of Calgary and Area.
Patricia is a recipient of The Spirit of CAPS national award for her contribution to the Canadian speaking industry.
What workshop leaders say: 
"Patricia is well known for leading dynamic workshops. She is also known for empowering emerging speakers to craft effective keynotes, workshops or training. Don't miss out on this rare Lethbridge opportunity!"
Freddi Dogterom, Keynote Speaker, Workshop Facilitator and Corporate Trainer
"Absolutely the best coach for speakers and trainers starting out."
Stu Schultz, Sales Trainer
"After taking your workshop, my participants were definitely awake and engaged."
Karri-Lynn Paul, Personal Success Coach, Indigenous Consulting
"Patricia has an invaluable wealth of experience and applicable advice. I leave energized and focused."
Adelle Ramcharan, YouTube Personality
"Patricia is a dynamic speaker and trainer who knows how to engage with virtually any type of audience. If you are someone who presents workshops as part of your job or business, or someone who would like to learn how this training opportunity is for you. I know you will come away enlightened and energized after spending a day with this wonderful woman."
Herky Cutler, Speaker/Trainer/Author Working with leaders
"Patricia Morgan is the master of presenting and delivering her content. You will learn all you need to know! I've learned too many tips to mention but one of my favorites from Patricia is how to create a great handout for my training sessions."
Sam Rafoss, Business Strategist
Call me at 403-242-7796 or email me to discuss possibilities! OK? Patricia