It was November 20 when the first Christmas card arrived and November 24 when a clerk asked, "Are you ready for Christmas?" The pressure of Christmas Countdown was in the air!
Yes, now that it is December, we have greeting cards ready to add a personal message and send off. My hubby has turned on the outside lights. So pretty! But that is it!
I will be ready (whatever that means) when the day comes. One month of focus is enough for the annual Christmas countdown.
The Season's Challenges
Societal messages add stress to the holiday season. Expectations around family traditions and media hype to spend more money can create stress.
I recently heard that the average family spends over $1000.00 on EACH child! How does that work in the province of Alberta, for example, with over 300,000 in the ranks of the unemployed? Maybe this tendency to over-spend helps explain the recent significant increase in personal debt and bankruptcy filings.
Then there are families who have ongoing challenges. They have Uncle Harry drinking too much, Sister Susie not speaking to Sister Sally and Grandpa Grumps saying "Humbug!" to it all.
Some people have experienced tragedy or loss. There is little breathing space between the cheery refrain of jingle bells to contemplate grief. If you are grieving, you may not want to celebrate Christmas at all. But maybe maintaining your routine and celebrating, as usual, is the best tribute you can give to your loved one.
Then there are my Jewish, Buddhist and atheist friends who feel no connection to the holiday season they are bombarded with everywhere they turn.
Maybe we have merely made too much of Christmas. Many websites provide guidance to cut the stress and increase resilience at this frenzied time of year.
The Season's Solutions
Bottom line, it is up to us to know our boundaries. It is up to us to know how much time and energy we want to invest. [tweetthis]You can decide what 'ready for Christmas' means. It is your decision how you celebrate.[/tweetthis]
In my younger years, I joined in the holiday frenzy. I could feel my heart racing. It was not uncommon for me to become ill during or soon after Christmas. Taking items off the 'To Do' list is key. Here are some examples of what I have taken off of my  list:
Christmas fruitcake. It is easier to buy.
Baking 8 or more tins of Christmas cookies. I make easy and kid-loving fridge cookies (see picture below). For the recipe CLICK HERE!
Christmas shopping for children and adults. Adult family members are off the list. We have all agreed to buy for only the children. See my posting on how we buy for our grandchildren, as we used to for our now adult children.
 Go out to the tree farm, chop down a tree, drag it home, set up in the tree stand, and decorate. The same sweet 'fake' tree does the trick.
 Prepare Christmas dinner by myself. My hubby looks after the bird and potatoes. I often buy a dessert.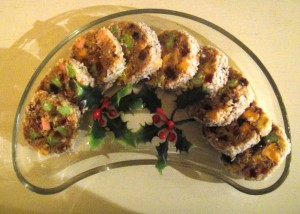 If you're feeling the pressure to buy into the busyness of the season, consider the following quote from Ralph Waldo Emerson:
To be yourself in a world that is constantly trying to make you something else is the greatest accomplishment.
Online Resources to Calm the Frenzie
 To better budget, buy gifts,  manage meals and relationship conflict go to The Better Health Channel.
 For seniors trying to cope with spending Christmas alone read this piece featured on CBC.
 If you want to be truly organized, download an article called, Let's Talk about Christmas from Simple Living.
In the end, what most people want is to create lasting, sweet and loving memories! Don't you agree?
My Resources to Help
These are blog/articles I have written with ways to manage Christmas stress, connect and create joy. Access:
Summary
Please notice what you find most demanding on your time and well-being at this special time of year. Do not buy into the 'are you ready' frenzy. Smile when you are asked about your Christmas countdown. Enjoy, celebrate and holiday, your way to the New Year!  I will be breathing and hugging my loved ones. What about you?
---

If you enjoyed or benefited from this blog, please leave a Comment below and subscribe to my eNewsletter, Your Uplift.