Programs can be customized to fit your group's needs. Just ask!  The presentations described below are the most popular for strengthening everyday resilience at work and home.  
Popular Keynotes ( 30 – 75 minutes)
The Rubber Band Principle: Three Easy Ways To Strengthen Your Resilience
Too often we say, "It's too hard." You can increase your bounce-ability and capacity to recover from change, mistakes, setbacks and stress at work and home. The Rubber Band Principle encourages you to Do Your Best (LEARN) Let Go the Rest and will help you easily improve your physical, mental, emotional and social well-being.
Three Easy Ways to Strengthen Resilience:
1. Listen to your body. It does not lie.
2.Edit your thoughts and talk.
3. Take your yourself lightly.
Audience members will take away:
30 Second Quickies to better care for their body—increasing health, vitality and productivity

WOW Think-Talk edits for increased workplace and life satisfaction

A lighter load and brighter outlook increasing their ability to focus on the important matters at work and home
Patrica has a light hearted and memorable approach to strengthening resilience.
Ellen Coe, Occupational Health Nurse, Petro Canada
Sunny Side Up: The Power of Joy at Work and Home
Too often we let petty and daily grumbles pull us down. The story of Bertha Honker will inspire you to increase your smiles, laughter, and joy factor. This session is filled with optimism, appreciation and delightful surprises . . . all to increase your well-being and resiliency.
Audience members will:
Re-capture what they knew as children; it is important to smile, laugh and play

Learn to think optimistically

Have ideas to create cheerful surprises

Feel a sense of well being and happiness

Hear ways to express their authentic appreciation, weirdness and silliness
For Women Only
Wondrous Western Women: Celebrate the Resilient Feminine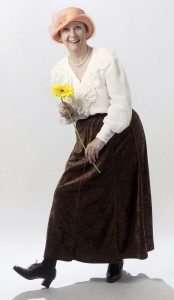 Women have stepped out of their girdles and done much. Discover how as a Canadian woman you are among such leaders as Nellie McClung and the Famous5. Be inspired to speak up, know your worth and lead your family and community.
Audience members will:
Hear some starling facts about life for our women pioneers
Be encouraged and inspired by models of care, courage and tenacity
Given ways to demonstrate determination, assertiveness and leadership
Celebrate being a Wondrous Western Woman
Click here to view more information about Wondrous Western Women.
She Said It: Celebrate the Words and Stories of Resilient Women
When women dare to speak from their experience, they share insight and delight. Based on the book, She Said: a Tapestry of Women's Quotes, we will explore events from the kitchen sink to acts of courage to deepening our wisdom. Come ready to smile, nod and be reminded of the important words you have to say. Note: This presentation is popular at lunch and dinner events.
Audience members  will:
Hear wit and wisdom quotations from some the world's most infamous women
Be reminded of their valuable experience and knowledge
Discover or be reminded of their personal wisdom
Laugh and share with women friends
The evaluations indicate that your message truly was empowering. You touched a lot of women with your sincere, open, honest and humorous presentation.
Diane Scheibner, Empowering Women Conference
I would be delighted to discuss possibilities with you. Please contact me at 403-242-7796 or email me.