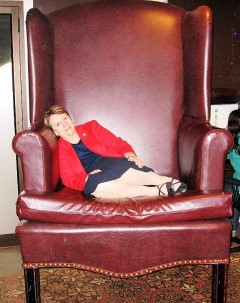 As a born and raised farm girl, I have long disdained exercise. After all, if I am going to sweat and get my heart rate up, can't I at least complete a major task, like get the hay in? I am not a slouch when it comes to cleaning, lifting, or painting the walls. But, to my surprise, I have learned that I am at risk for Sitting Disease,
Yes, I sit too many hours in front of my computer screen writing books, blogs, articles, learning guides or business documents. Then there are the hours being creative with photos for a PowerPoint slide-deck, or making social media posters on Canva.com, or editing video.  All this is done while sitting in my comfy Staples ergonomically correct chair. Fortunately, or unfortunately, I have family members who nag, "Mom, have you taken a walk today?"
Who Suffers from Sitting Disease?
I am not alone in my risk of Sitting Disease. Workers of all shapes, weight, and sizes have hours of prolonged sitting. They sit in traffic to arrive at their place of employment where they spend most of their time, yes, sitting. I read that in North America the average worker sits for 7.7 hours a day!
Even our children spend hours of sitting in front of TVs, video games or iPad screens. What about you? Have you noticed how often and particularly how long you sit? Research indicates that it is important to take breaks. Length of sitting is a key factor.
What is Sitting Disease?
According to a 2013 article in Canadian Living the phrase sitting disease was coined by scientists when they identified a range of health issues related to a desk bound lifestyle.
Here are just five risk factors of sitting for long periods:
Cardiovascular Disease
Type II Diabetes
Obesity
Poor Posture
Decreased circulation which can lead to blood clots, and then stroke
High Blood Pressure
Early Death. Ouch! One study concluded that those who sit longer are almost 50% greater risk of earlier death.
On this list I am most vulnerable to blood clots. I have previously had them and I am genetically at risk. Two of my brothers have ongoing issues with blood clots. Most of my life I have struggled with poor posture which can lead to other health issues. To what on this list might you be vulnerable?
How to Fight Sitting Disease
The research tells us what to do and it is common sense. To counteract inactivity, get active. Here are some ideas to get us moving.
Ideas For General Exercise
Have a Daily Exercise Practice: You can use equipment such as a tread mill or a rowing machine or join a gym. All movement helps! I have taken yoga, Tai Chi, aquacise, Pilates, and step classes.
To maintain an exercise routine, you must find one that fits your needs and lifestyle.
Have an Accountability Buddy: My yoga buddy, Linda and I text each other with a thumbs up and heart once we have done our practice. I enjoy the contact, reminder and support.
Aim to walk 10,000 steps a day. My hubby does, and it keeps him in terrific shape.
Ideas for Frequent Moving 
The research on Sitting Disease indicates we need to move frequently  throughout the day, regardless if we have an exercise program or not.  Here are some ideas to get us to move every hour or so.
Frequently Move: Get up every hour and move. Since my national headquarters is in the basement, I make a habit of frequently going upstairs. Running up the stairs is a satisfying accomplishment.
Use a Timer: Set a timer to remind you to stand, jump, walk, run, skip or dance.
Take a Quick Walk. My hubby goes for at least 3 daily walks. Amazing, eh? When I am active with my best self-care, I join him for one of those jaunts.
Use Stairs: Take the stairs instead of the elevator. When I worked downtown at a family counselling agency, I used to walk up four flights instead of using the elevator. Now on Wednesdays when I attend my ukulele class, I choose to use the stairs and not the elevator. Every little movement counts!
Sit and Stand. You will feel more alert and energized. When you stand blood and oxygen become more active.
Create an Ergonomic Friendly Office: Make your office movement friendly. The Canadian company, AnthroDesk, manufactures and sells equipment to help us move on the spot.
Get a Standing Desk
A standing desk facilitates the movement we seek. It allows us to get our computer work done while standing.  These adjustable devices allow us to sit and stand, wiggle, jiggle, and stand on our toes. Learn more about the AnthroDesk.


Get a Wobble Chair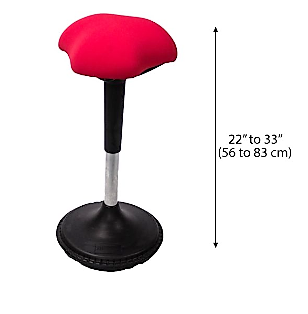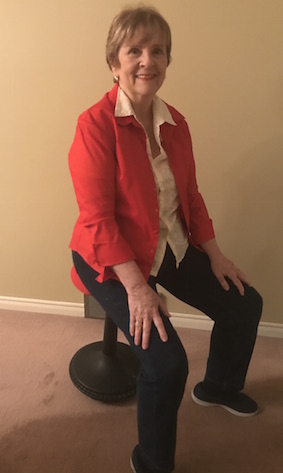 Another product by AnthroDeck is the Wobble Chair. It is an ideal partner to a standing desk. Years ago, I tried sitting on a big ball at my desk. I ended up with back pain, feeling uncomfortable, and slouched. That ball is somewhere at the back of my office closet!
When my Wobble Chair (can be adjusted from 22" to 33") arrived, I imagined I would fall off it. Not something this Spunky Senior wanted to do. But immediately after sitting on the Wobble Chair I noticed my core muscles activating and an immediate improvement to my posture. I can also wiggle around while still feeling stable.  
If you decide to arrange for a standing desk you will probably want to invest in this flexible and fun chair. Because my office will not accommodate a standing desk, I need to raise my keyboard and monitor to use the Wobble Chair.
Both the Standing Desk and Wobble Chair are available in Canada from Anthrodesk at reasonable prices.
Most of all, please join me in the fight to conquer Sitting Disease!
Please check out this related post:
How to Develop Body Awareness to Better Manage Your Stress
---
If you enjoyed or benefited from this blog, please leave a Comment below and subscribe to my eNewsletter, Your Uplift.